The way to keep workspace more productive
The way to keep workspace more productive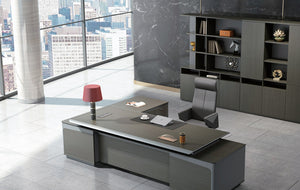 The way to keep workspace more productive
A well-designed and organized workspace can help to promote productivity and efficiency. Here are some tips to help you make your workspace more productive:
Prioritize ergonomics: A comfortable and ergonomic workspace is essential for promoting productivity. Choose furniture and equipment that is adjustable and supports healthy posture, and take regular breaks to stretch and move your body.
Keep the workspace clean and clutter-free: A cluttered workspace can be distracting and overwhelming, and can decrease productivity. Keep the workspace clean and organized, and regularly declutter and dispose of unnecessary items.
Use natural light and adjustable lighting: Natural light and adjustable lighting can have a big impact on mood and productivity. Use natural light whenever possible, and provide adjustable lighting to allow employees to control their own lighting levels.
Invest in technology and equipment: The right technology and equipment can improve efficiency and productivity. Invest in quality equipment and software that meets the needs of your business, and provide training and support to help employees use it effectively.
Create a pleasant and inspiring work environment: A pleasant and inspiring work environment can motivate and engage employees, and promote productivity. Consider using plants, artwork, or other elements to create a visually appealing and stimulating workspace.
Better Furniture Better Office
As a leading office furniture manufacturer and online retailer with over 2000 sqm showroom in Dubai UAE for over 15 years, VOFFOV hopes to provide more great products and value service to our customers in United Arab Emirates.
VOFFOV provides top qualified office chairs, office desks, workstation, executive desks, meeting tables, reception tables, waiting room seating, coffee tables and more office furniture in dubai that meet your budgets.
Over 15 years professional service office furnishing from design to delivery. Just place an order, and we bring your office designs to life.
Free Quote
Email: info@voffov.com
Mobile: +971 55 604 1298
WhatsApp: +971 055 100 1466