VOFFOV® Multifunction High Back Home Office Chair
VOFFOV® Multifunction High Back Home Office Chair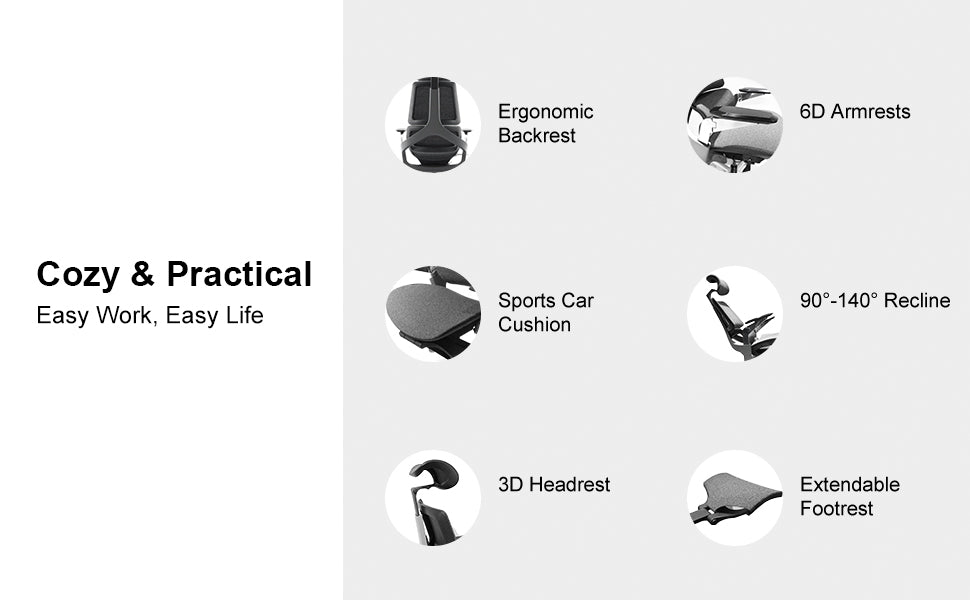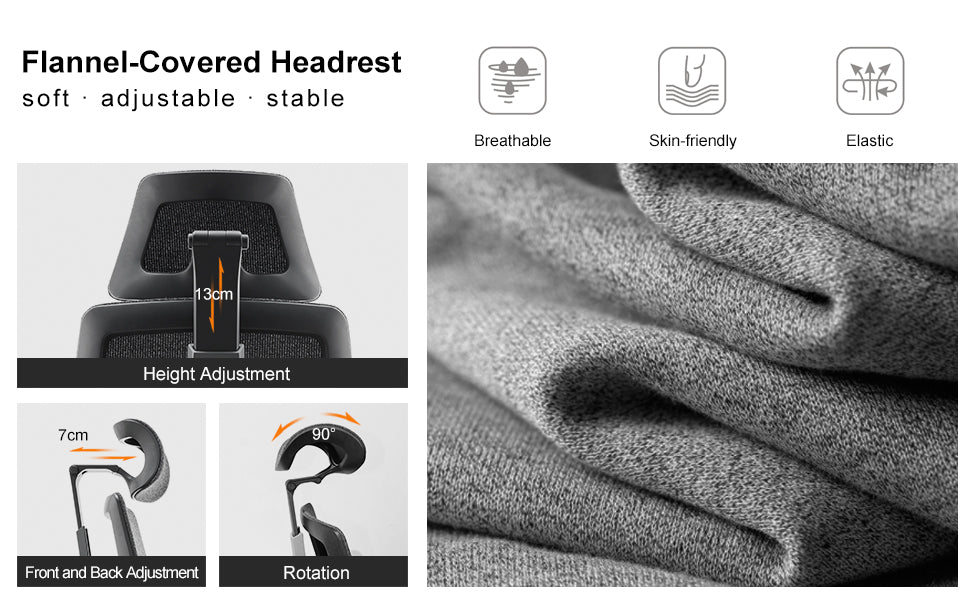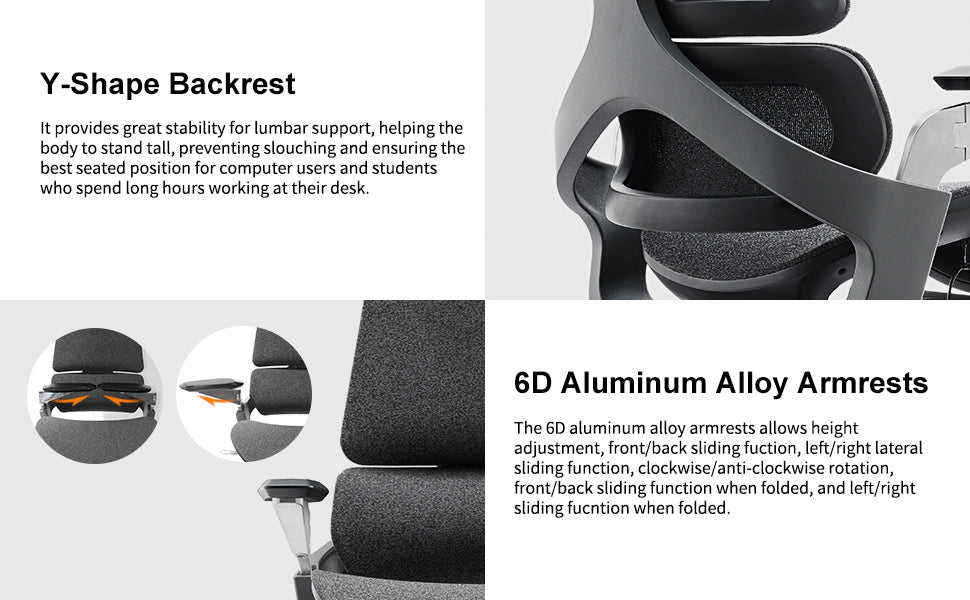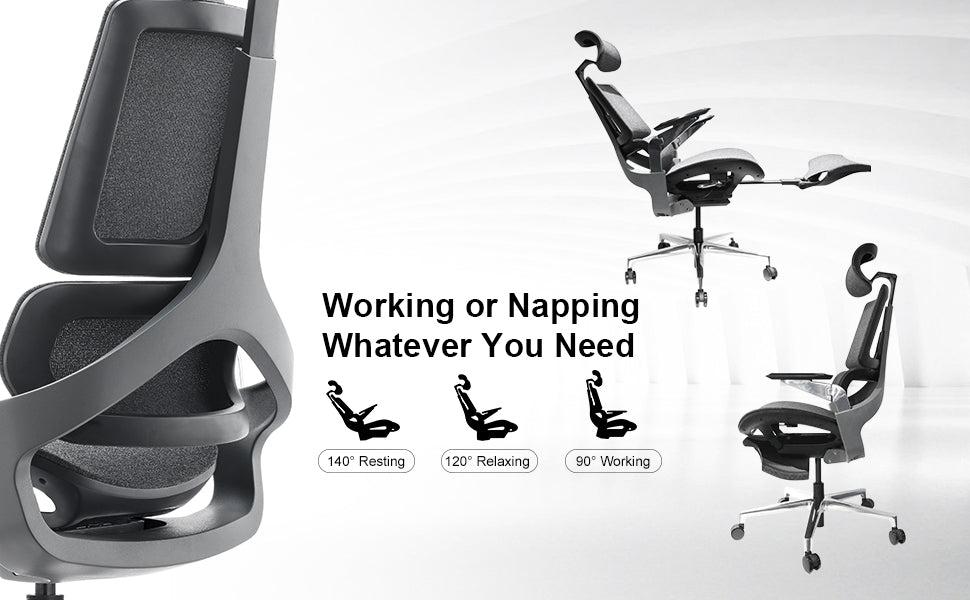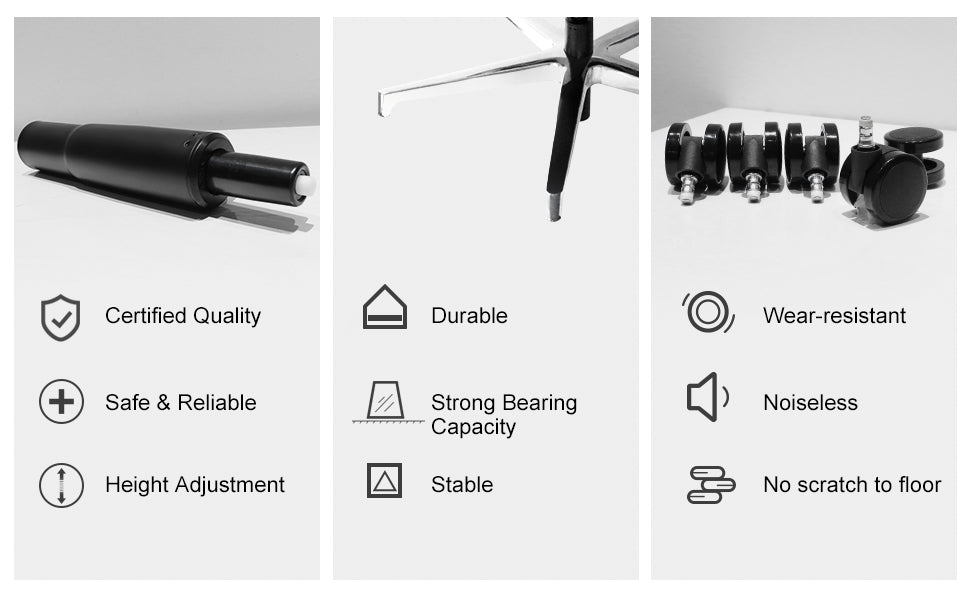 - Premium Material: Our chair comes with a modern, stylish and elegant appearance. Forged from up-to-date engineering plastic, the chair frame is stain-resistant and stable. Covered in flannel fabric, which is soft, elastic, skin-friendly, and breathable. Besides, a solid aluminum alloy base with mute casters ensures smooth rolling and stability.

- Ergonomic Features: This tall office desk chair is designed to enhance the sitting position of office workers and help them to avoid neck, upper and lower back discomfort. A 3D headrest is added to this model with the intention to create optimal comfort and support for head and neck. The height of this headrest can be adjusted by 13cm. It moves back and forth by 7cm. Plus, it rotates 90 degress! Another impressive ergonomic design is the Y-shape backrest. It provides great satbility for lumbar support, helping the body to stand tall, preventing slouching and ensuring the best seated position for computer users and students who spend long hours working at their desk.

- 6D Armrests and Retractable Footrest: This 360° swivel desk chair has a distinguished feature of 6D armrests, which will be easily customized to your specific needs. It includes armrest height adjustment, front/back sliding fuction, left/right lateral sliding function, clockwise/anti-clockwise rotation, front/back sliding function when folded, and left/right sliding fucntion when folded. In this model, we specifically add a retractable footrest to help place your legs in a more comfortable position during long hours of work or game. It aims to reduce pressure and alleviate leg pain after long-time sitting.

- 3-in-1 Control Lever: This device underneath seat can automatically adjust the rocking pressure according to users of different physical shapes to make sure they press against body at any time by expanding the contact surface between flannel fabric and body and to provide a stronger sense of wrap and support that helps you remain focused and comfortable. Of course, you can adjust the seat height and tilt angle (90°-140°) by pulling this lever too. And surprisingly, the depth of our seat can also be adjusted by 5cm to suit different body sizes. We think way ahead of our companions!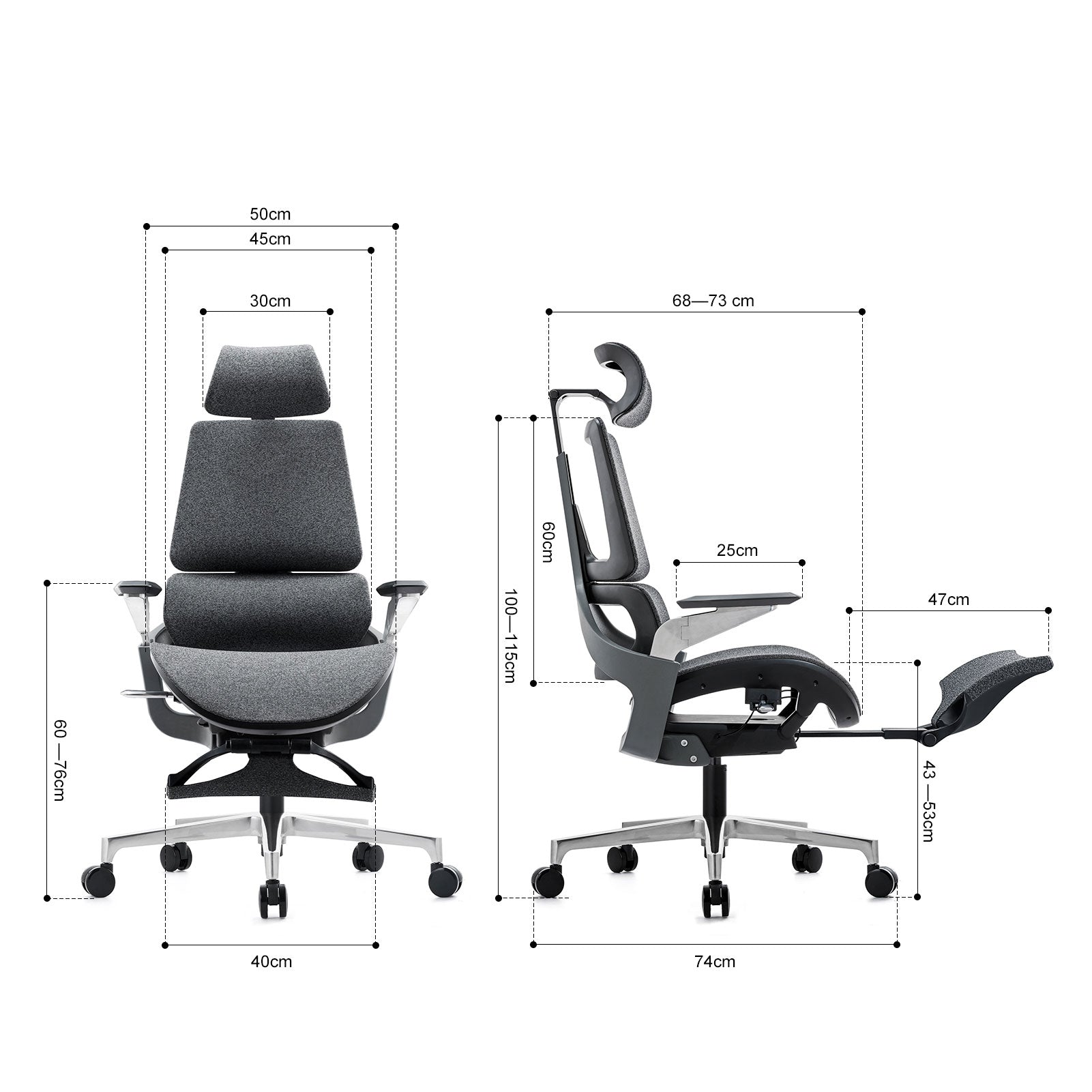 SHIPPING DELAY STATEMENT
Due to the ongoing outbreak of the COVID-19 virus.
For the shipping time, all the chairs will be delayed 3-5 days. We appreciate your patience. For more information about shipping, please refer to SHIPPING POLICY page.
How Do I Know If A VOFFOV Chair Will Be Fit Me?
We've designed our chairs to be as adjustable as possible,
taking into consideration that people have varying weights and height.
We do have a recommended using our chair measurement guide base on your height and weight in product page PRODUCT DESCRIPTION.

We also suggest comparing these measurements against your current chair, to give you a better idea of which chair would fit you best.

How Do I Assemble My VOFFOV Chair?
Upon purchase & fulfillment, you can find assembly guide in the INSTRUCTION MANUAL.

If you need an extra hand, we can provide a service for the assembly of your furniture in your office or home.
Our professionals will carefully follow the instructions and will make sure that all the safety aspects of the building process are rigorously respected.
When we're finished, we take all the packaging with us and we make sure that everything is recycled properly.

Please choose 【Delivery with free assembly】option in checkout page before submit your order (for UAE only).
The Dubai team will call you to arrange the delivery date and time.
Please keep in touch by phone.
Our delivery team will assemble the order for you.

Learn more about Assembly Service

If you run into any issues during the assembly, please do not hesitate to CONTACT US and our support team will do their best to help you.

How Do I Take Care Of My VOFFOV Chair?
We have prepared an aftercare guide for our customers. View AFTERCARE GUIDE page.

How Long Is The Warranty Valid And What Does It Cover?
Please refer to WARRANTY POLICY page.
Pretty comfortable
Pretty comfortable. The seat base has a slightly heavy weight so it makes this chair feel very solid and stable while sitting and moving on it.
I like that armrests are adjustable and have many different options so it's really easy to set it up so it's comfortable on any position.
Overall the quality is very good and very comfortable to sit. Definitely five stars.
Got this for myself as Christmas present, it's a great chair
Got this for myself as Christmas present, it's a great chair. Very comfortable. All the armrests, and headrests are adjustable. The seating and backrest are made of durable and flexible polymers, making it very cool to sit on for a long time, no sweats at all.
This chair is pretty heavy, so i would recommend the ladies should not try to assemble it yourself, ask a guy to do it.
i have returned the chair. looking for a different kind. however, the chair is good in general.
Highly recommend. Thank you
Very fast delivered. I cant wait for set up, it was so easy for set up just used 15mins , looks like the picture, nice space for my ,and so comforty for my back ,good for work good for rest, very fit my room, nice works. It is worth. Highly recommend. Thank you
The lumbar support is excellent.
This is one of the best task chairs, I ever had. The lumbar support is excellent. This is possibly one of the best chair for supporting lower backs. Assembly took about 40-45 mins.